CIP Compact Integrated Pupillograph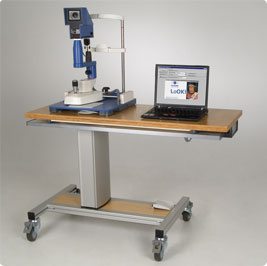 Pupillometry is an easy applicable method to examine the autonomous system. For this purpose the CIP features 9 different modes.
The CIP is very easy to operate. An integrated video camera and LCD display shows the measured eye and all necessary information. The detected pupil margins are overlayed in the display.
The CIP is avaiable for handheld and table mounted operation.
The CIP is the ideal instrument in clinical pharmacology, legal and traffic medicine, ophthalmology and neurology. The battery supplied handheld version is used for bedside examinations.
Compact
Integrated
Pupillograph
Autonomous diagnostics
Drug detection
Pharmacodynamic
Refractive Surgery
Spezifikation des CIP
Resolution 0,05 mm
Sampling frequency up to 250 Hz
Variable built-in stimulus
Serial (RS232) interface
9 different modes incl.
Pupil light / dark reflex, Hippus,
horizontal (gaze) nystagmus
pc software LoOK!
Windows® 2000/XP
Interested? Make an appointment for an online live presentation.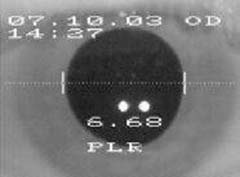 The CIP features nine different operation modes such as pupil light reflex, pupil dark reflex, hippus, nystagmus, saccades and the average pupil diameter, Horner test, and pupil light / dark adaption.
The pupil light/dark reflex -, hippus - and "static" recordings are evaluated automatically.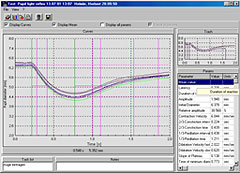 Using infrared technology the pupil is scanned by a CCD line scan camera and a video camera. The pupil margins are detected automatically with high spatial and time resolution to evaluate the pupil diameter and the horizontal eye position.
The data is handled with the comfortable AMTech software LoOK! or the 21 CRF part 11 compliant version LoOK!-pII offering a sophisticated data base and study mode.
Either a protocol printer or a PC can be connected to the serial interface. The PC-files are in ASCII-format.
Options
PC software LoOK! or LoOK!-pII, handheld version, consensual stimulation, protocol printer.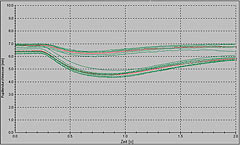 Readings of the pupil light reflex and the pupil dark reflex in a sober state (lower readings) and under the impact of XTC (top readings).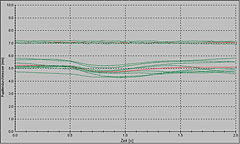 Nystagmus reading